Laza Azal
Maschio, 49
Milano (MI)
- Cantante, Corista, Bassista, Tastierista, Chitarrista accompagnatore, Compositore, Arrangiatore, Paroliere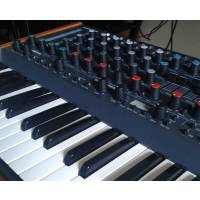 Questo profilo č stato visto 1802 volte.
Suono cover di
I'm NOT available for cover or tribute band.
Il mio SetUp
Analog synths, effects, basses, guitars and other stuff as well as Midi and DAW
La mia lista dei desideri
More time to play
I miei artisti preferiti
Banco del Mutuo Soccorso, Supertramp, Pink Floyd, King Crimson, Jethro Tull, Blind Faith, Genesis, Can, Faust, Kraftwerk, Ash Ra Tempel, Amon Duul, PFM, Area, Brian Eno, Laza Ristovski, David Sylvian, David Bowie, Peter Gabriel, Alan Parsons, Vangelis, Jean Michel Jarre, Battiato....
I miei generi preferiti
Lounge, Drum'n'bass, Blues Rock, Rock progressivo, Rock psichedelico, Rock anni 70, New Wave, New romantic, Musica sinfonica, World music, Ambient, Lounge, Indie Rock
Laza Azal
Maschio, 49
Milano (MI)
- Cantante, Corista, Bassista, Tastierista, Chitarrista accompagnatore, Compositore, Arrangiatore, Paroliere
Sonas Aurorae
Milano (MI)
Lounge, Blues Rock, Rock progressivo, Rock psichedelico, Rock anni 70, Brit pop, New Wave, New romantic, Musica liturgica, Musica sinfonica, Musica pianistica, Musica folk, Musica araba, World music, Ambient, Lounge, Blues, Indie Rock
Max Morelli (44)
Milano (MI)
Analog synths lover, hammond, and other vintage stuff
Gruppi
Sonas Aurorae
Milano (MI)
Lounge, Blues Rock, Rock progressivo, Rock psichedelico, Rock anni 70, Brit pop, New Wave, New romantic, Musica liturgica, Musica sinfonica, Musica pianistica, Musica folk, Musica araba, World music, Ambient, Lounge, Blues, Indie Rock