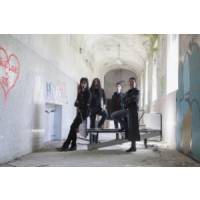 Questo profilo è stato visto 783 volte.
Approfondimenti Web
Suoniamo pezzi nostri
Artisti di riferimento: Heavy/Power Metal
Generi musicali
Heavy metal, Power Metal
MYRIAD LIGHTS was founded in 2006 in Milan, Italy by the 17-year-old guitarist Francesco Lombardo (HIGHLORD), who wanted to combine the classic Heavy Metal sound with more power and modern influences.
After some lineup changes the band found stability in late 2010, besides Francesco on guitar, with Andrea Di Stefano on vocals, Jeff Lombardo (FOGALORD) on bass and the youngest Phil Motta on drums.
In 2011 Myriad Lights recorded the debut album Mark of Vengeance at SFSoundDesign studio (Albignano, Milan, Italy), released worldwide in June 2012 by Underground Symphony. Mark of Vengeance is a really simple and immediate album, based on the 80s classic heavy metal sound and recorded with nothing more than the instruments that you can hear in a Myriad Lights' live act: just guitar, bass and drums.
During 2012-2013 Myriad Lights has performed in many live gigs and festivals, sharing the stage with Luca Turilli's Rhapsody, Firewind, Fatal Smile, Theocracy, Sleeping Romance, Pino Scotto.
Followers
|
Totali: 7
&nbsp
&nbsp
&nbsp
&nbsp
&nbsp
&nbsp
&nbsp
Ti interessa rimanere aggiornato sulle novità pubblicate da ?