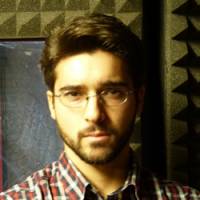 Questo profilo Ŕ stato visto 785 volte.
Approfondimenti su Web
Il mio SetUp
Mixer e Loudspeakers Mackie 32.8 (studio) Mackie ONYX 24.4 (live) Behringer Eurorack MX2642A (live) Yamaha HS80M (studio monitor) Finale Sony e casse Pioneer Mackie SRM450 800W (x2 PA) Proel Flash 12a (x3 stage monitor) Interfacce audio e Outboard Behringer ADA8000 (x2) Motu 828mk3 Firewire (26in/32out) (x2) TL Audio 5001 quad-preamp valvolare (x2) Alesis Midiverb II (multi-fx) Lexicon MX200 (multi-fx dual-engine) T.C. Electronic G-Major (multi-fx) Ashly CL52E (compressore stereo) SM Pro Audio OC8E (compressore 8Ch.) DBX 2231 2ch. graphic eq Behringer XR1400 (gate 4Ch.) Alto HPA6 (amplificatore cuffie 6Ch.) Microfoni Dinamico AKG D12 (vintage) CAD22 Sennheiser e606 Sennheiser e822s Shure Unidyne (vintage) (x3) Shure Beta52A Shure Beta57A Shure SM57 (x2) Shure SM58 (x3) Condensatore R°de NT2-A (x2) R°de NT5 MP (x2) Samson C01 Samson C02 (coppia) Nastro The T.Bone RB100 (x2) Drum set ElectroVoice PLDK7 Wireless Shure PGX02 Sub kick Kustom (Celestion 8" 30W) Misura Samson MM01 Su richiesta AKG C414 AKG C451B Neumann KMS105 Sennheiser MD421 Sennheiser e604 Altro Behringer PX3000 patchbay Behringer Ultra-DI DI20 (x3) AKG K141 MkII cuffie aperte circumaurali BeyerDynamic DT-770M cuffie chiuse circumaurali KRK KNS8400 cuffie chiuse circumaurali RCF PA Amplifier AM 7060/N (finale mono) Prodipe 49C MIDI Masterkeyboard
I miei generi preferiti
Dance commercial, Disco music, Lounge, House music, Commercial house, Electro house, Acid house, Deep house, Techno, Progressive Techno, Techno hardcore, Drum'n'bass, Tech House, Tribal House, Trip Hop, R&B, Funk, Rap, Etnofunk, Freestyle, Hip Hop, Hardcore Hip Hop, Acid jazz, Classical jazz, Cool jazz, Country blues, Jazz funk, Dixieland, Free jazz, Jazz fusion, Latin jazz, New Orleans, Nu jazz, Ragtime, Swing, Rhytm & Blues, Gospel, Blues Rock, Garage rock, Hard rock, Pop rock, Punk rock, Rock and roll, Rockabilly, Rock progressivo, Rock psichedelico, Dark rock, Rock anni 60, Grunge, Rock anni 70, Rock anni 80, Rock anni 90, Melodic metal, Heavy metal, Doom metal, Stoner metal, Gothic metal, Nu metal, Funk metal, Punk metal, Thrash metal, Death metal, Black metal, Industrial metal, Christian metal, Progressive metal, Avantgarde metal, Pop latino, Brit pop, Dance pop, Europop, Musica Beat, Musica leggera, New Wave, Pop classica, New romantic, Teen pop, Ragamuffin, Dub, Bossa nova, Calypso, Caraibico, Cubana, Flamenco, Latino Americana, Merengue, Salsa, Tango, Tex mex, Musica sacra, Musica corale, Musica liturgica, Musica sinfonica, Musica da camera, Musica pianistica, Musica per balletto, Opera lirica, Opera seria, Operetta, Cantata (profana), Musiche di scena, Celtica, Country, Country rock, Folk rock, Musica folk, Canto popolare, Canzoni francesi, Musica irlandese, Musica africana, Musica araba, Patchanka, World music, Ambient, Chill out, Nature songs, Profana, Samba, Trance, Lounge, Blues, Hardcore, Post-Punk, Indie Rock, Ska, Elettro Jazz, Power Metal, Liscio, Punk
Classe 1985.
Laureato in Ingegneria per l'Ambiente ed il Territorio (triennale) presso l'Università degli Studi di Trento (2008)
Diplomato presso il SAE di Milano in Audio Engineering (2011)
Ho studiato chitarra classica presso il C.E.A. (2001) ed elettrica presso il Lams (2009) di Verona.

Lavoro come fonico live, sia FOH che palco, per ogni genere di evento musicale, teatrale e conferenzistico e come fonico da studio; eseguo registrazioni multitraccia, mix e master sia in studio che live.

Lavoro per:
Showtime (2013-oggi)
Tonio Service (2013-oggi)
Ed. L'Informatore Agrario (2012-oggi)
Line-Out Rent (2012-oggi)
Teatro Ristori (2012-oggi)
Raggi di Luce (2012-oggi)
Astrofonica (2012-oggi)
Nuvè Art (2012-oggi)
Montresor Group (2012-oggi)
MySound (2011-oggi)
Write System (2011-oggi)
Music Store service (2009-2011).

Suono con gli Inside (Hard Rock) ed ho suonato con i Sinners (cover Guns'n'Roses) ed i Noradrenalina (Punk Rock).
Gruppi