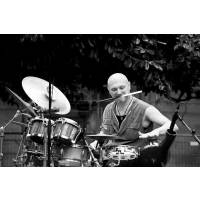 Questo profilo č stato visto 624 volte.
Suono cover di
ARTISTI E TOURNČE VARI..
Il mio SetUp
drumset jazz,,drumset fusion,rock,latin,pop....mini etno drums..etno e latin percussions..electronics...e wave drum korg,elctronic drum,loop live.drum machine prog.tabla indian box..sequenc..,colori,,effetti..eccecc..
La mia lista dei desideri
vivere facendo musica di qualitą
I miei artisti preferiti
trilok gurtu
I miei generi preferiti
Lounge, Drum'n'bass, Tribal House, Trip Hop, R&B, Funk, Rap, Etnofunk, Freestyle, Hip Hop, Acid jazz, Jazz funk, Free jazz, Jazz fusion, Latin jazz, Gospel, Hard rock, Rock progressivo, Funk metal, Progressive metal, Pop latino, Dance pop, New Wave, Pop classica, Bossa nova, Caraibico, Flamenco, Salsa, Musica sinfonica, Musica da camera, Musica pianistica, Celtica, Folk rock, Musica folk, Musica irlandese, Musica africana, Musica araba, World music, Ambient, Chill out, Nature songs, Profana, Samba, Lounge, Blues
STEFANO CALVANO, MUSICIAN, DRUMMER, PERCUSSIONIST, RAVENNA4.12.62 begin The Studies IN77 WITH Important NAT. AND INTERNAT.Teachers AND Schools
HE PLAYS IN THE THEATER WITH:CHAMBER ORCH. PARMA, CHAMBER ORCH OF THE LOMBARDY, SINFONIC ORCH TRIESTE, ARTHA ENSAMBLE, ORCH.REUNION CUMBRE,4TETTO SCALIGERO TANGO Y ALGO MAS, BIGBAND BRUNO TOMMASO.IT EXHIBITS HIM IN THE AMERICANS MUSICAL WITH THE COREOGR. BAAYORK LEE AND THE M°PETER HOWARD.IT PLAYS IN VARIOUS FEST. NAT. AND INTERNAT. JAZZ, BLUES, ETNO. WITH:V.SANCEZ M. MARZI, L. TITI, T. KLAUSEN, T. LAMA, T.SHERET, D.KAYE, FADENPIANOTRIO, A.MILES, G.FEWELL, K.WHEELER, E.RAVA, P.FRESU, D.LIEBMAN, K.POTTER, J.FARGER, ROBBAN.C, T.ZTANCO, Z.MARTINS, M.MONTEIRO, M.TAMBURINI, W.ROBERTSON, M.ALLEN.R.BATTAGLIA, R.PORTERA, M.SOLIERI, A.OXA,V.CAPOSSELA, L.BIONDINI, S.ZANCHINI, T.GUERRA, R.BALDINI, J.THOMPSON, J.SALINAS, N.BROWN, R.TAVAREZ, V.WASHINGTON,5°RIGO.
He works From 30 Years As TEACHER, SESSIONMAN,WITH DANCE COMPANYS,PAINTERS,GRAPHICS ETC..
Followers
|
Totali: 4
&nbsp
&nbsp
&nbsp
&nbsp
Ti interessa rimanere aggiornato sulle novitą pubblicate da STEFANO CALVANO?