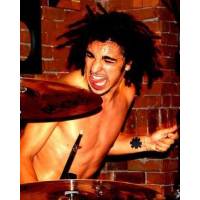 Questo profilo č stato visto 551 volte.
I miei generi preferiti
House music, Acid house, Drum'n'bass, Funk, Hip Hop, Classical jazz, Cool jazz, Jazz funk, Free jazz, Jazz fusion, Latin jazz, New Orleans, Swing, Blues Rock, Pop rock, Punk rock, Rock and roll, Rock progressivo, Rock anni 70, Rock anni 80, Rock anni 90, Heavy metal, Funk metal, Death metal, Pop latino, Musica leggera, Ragamuffin, Bossa nova, Cubana, Latino Americana, Merengue, Salsa, Musica corale, Musica da camera, Musiche di scena, Country rock, Folk rock, Musica folk, Canto popolare, Musica africana, Musica araba, Ambient, Chill out, Samba, Blues, Indie Rock, Ska, Punk
S straordinario E encomiabile R responsabile G genio I internazionale O ostinato Sergio Piras also says Sergio the Polyp but also Sêrgio El Niño, Asti July 9 th 1988, but alive in the Alexandria. It is born from a family of Sardinian musicians, father ex bassist. Since the tender age of 10 years he leaves the sports world begins to beat especially the sofa at home listening to the various sons-in-law from the RHCP funk to rock Led Zeppelin, gives the innate passion that grows , and the energy of funk tone, after having played in various bands in the province of Alessandria, currently studying by himself and manages the rehearsal room of the center forest Salesians of don Alessandria

https://www.facebook.com/sergio.elnino.3
Followers
|
Totali: 4
&nbsp
&nbsp
&nbsp
&nbsp
Ti interessa rimanere aggiornato sulle novitā pubblicate da Sęrgio El Niņo Piras?