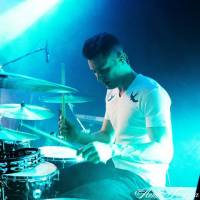 Questo profilo è stato visto 603 volte.
Approfondimenti su Web
Suono cover di
Suono cover di generi: Rock, Pop, Funk, Soul, Fusion, R&B, Prog e Metal non estremo.
Il mio SetUp
Batteria: (Set Live) Tama Superstar, (Set Studio) Tama Starclassic B/B Rullanti Ludwig, Mapex e Tama Piatti Sabian, Zildjian, Turkish, Meinl, Zultan Set PA Live: Sub Yamaha 950 watt, microfoni AKG + accessori. Set Studio: scheda audio Tascam 16 in, 4 out; microfoni AKG e Shure + accessori; DAW Studio One 3; Batteria elettronica Yamaha DTX.
I miei artisti preferiti
U2, Nirvana, RATM, Pink Floyd, Police, Led Zeppelin, Michael Jackson, The Roots, Jimi Hendrix, Foo Fighters, Linkin Park, Korn, Dream Theater, Periphery... e tanti altri!
I miei generi preferiti
R&B, Funk, Rap, Hip Hop, Rhytm & Blues, Hard rock, Punk rock, Rock and roll, Rock progressivo, Stoner metal, Nu metal, Progressive metal, Blues
Tarantino, residente a Polignano a Mare (BA). Ho studiato musica e solfeggio dall'età di 10 anni. Dal 2010 ho studiato batteria privatamente con il Maestro Giuseppe Grondona di Bari (docente presso il BIMM Institute di Londra). Nel 2014 ho iniziato ad impartire lezioni private di batteria.
Ho suonato con diversi artisti e gruppi, sia in Italia che all'estero, tra cui: The Insex, Cariòn, Psycholies, End of Skyline, Underskin (tributo U2). Oltre 100 date all'attivo.
Sono disponibile come membro fisso per cover o come turnista Live e Studio.
Dispongo anche di home studio per produzioni, mix e master.
Maggiori info sui miei social:
Youtube
https://www.youtube.com/channel/UCOE7eFXq00kGAOBpB5pPRcQ
Facebook
https://www.facebook.com/alessandrospenga/
Video
Followers
|
Totali: 3
&nbsp
&nbsp
&nbsp
Ti interessa rimanere aggiornato sulle novità pubblicate da Alessandro Spenga?