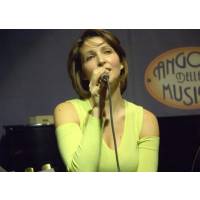 Questo profilo Ŕ stato visto 78 volte.
Approfondimenti su Web
I miei generi preferiti
Dance commercial, Disco music, Lounge, House music, Commercial house, Electro house, Acid house, Deep house, Techno, Progressive Techno, Techno hardcore, Drum'n'bass, Tech House, Tribal House, Trip Hop, R&B, Funk, Rap, Etnofunk, Freestyle, Hip Hop, Hardcore Hip Hop, Acid jazz, Classical jazz, Cool jazz, Country blues, Jazz funk, Dixieland, Free jazz, Jazz fusion, Latin jazz, New Orleans, Nu jazz, Ragtime, Swing, Rhytm & Blues, Gospel, Blues Rock, Garage rock, Hard rock, Pop rock, Punk rock, Rock and roll, Rockabilly, Rock progressivo, Rock psichedelico, Dark rock, Rock anni 60, Grunge, Rock anni 70, Rock anni 80, Rock anni 90, Melodic metal, Heavy metal, Doom metal, Stoner metal, Gothic metal, Nu metal, Funk metal, Punk metal, Thrash metal, Death metal, Black metal, Industrial metal, Christian metal, Progressive metal, Avantgarde metal, Pop latino, Brit pop, Dance pop, Europop, Musica Beat, Musica leggera, New Wave, Pop classica, New romantic, Teen pop, Ragamuffin, Dub, Bossa nova, Calypso, Caraibico, Cubana, Flamenco, Latino Americana, Merengue, Salsa, Tango, Tex mex, Musica sacra, Musica corale, Musica liturgica, Musica sinfonica, Musica da camera, Musica pianistica, Musica per balletto, Opera lirica, Opera seria, Operetta, Cantata (profana), Musiche di scena, Celtica, Country, Country rock, Folk rock, Musica folk, Canto popolare, Canzoni francesi, Musica irlandese, Musica africana, Musica araba, Patchanka, World music, Ambient, Chill out, Nature songs, Profana, Samba, Trance, Lounge, Blues, Hardcore, Post-Punk, Indie Rock, Ska, Elettro Jazz, Power Metal, Liscio, Punk, Bluegrass
MARINA BARGONE, cantante e insegnante di tecnica vocale applicata al canto moderno.
Svolge attivamente l'attività di cantante a livello professionale dal 1998, attualmente impegnata con il maestro Michele Pirona nel noto progetto dedicato alla musica da film "GUITAR SOUNDTRACKS", ha studiato canto classico con il tenore P.Scacciati a Trieste, ha approfondito la tecnica vocale moderna con insegnanti titolati italiani e stranieri,ha frequentato i corsi ufficiali di 1° e 2° livello dell'EVT – Metodo VOICECRAFT, ha approfondito le sue competenze studiando altri metodi di canto moderno quali il Metodo VMS (Vocal Music System) di Loretta Martinez (Berklee School Boston – direttrice del primo master post Laurea in Didattica del Canto Moderno a Firenze) e il VOCAL POWER Method of Singing di Elizabeth Howard. E' l'ideatrice del metodo certificato "Singing in English"(R). Insegna presso la scuola di musica del teatro Luigi Bon di Colugna e presso la Music Art di Udine.
Video