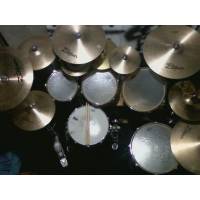 Questo profilo Ŕ stato visto 561 volte.
Approfondimenti su Web
Il mio SetUp
Yamaha Custom, double pedal Iron Cobra, cymbals Zildjian & Paiste
I miei artisti preferiti
Soilwork,Lamb Of God, Threat Signal,Parkway Drive, Heaven Shall Burn, As I Lay Dying, Whitechapel, Born Of Osiris
I miei generi preferiti
Melodic metal, Death metal, Black metal
I'm living in Martinengo(Bergamo,Italy), I play drums since 1998.

I am a drummer in a melodic death metal band whose name HaddaH ( http://www.haddah.it ).

Also I love electronic music,for example Techno and Trance.
When I have free time I enjoy creating trance music with pc.

Video
Followers
|
Totali: 3
&nbsp
&nbsp
&nbsp
Ti interessa rimanere aggiornato sulle novitÓ pubblicate da Marcello Provenzi?