Andrea Chirico
Maschio, 41
Como (CO)
- Chitarrista, Chitarrista accompagnatore, Compositore, Arrangiatore, Paroliere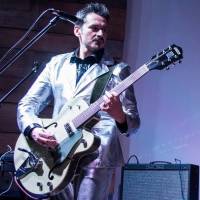 Questo profilo Ŕ stato visto 6921 volte.
Approfondimenti su Web
Il mio SetUp
1) effetti a rack
alesis midiverb
tc electronic g-sharp
line 6 pod pro x3
roktron intellifex
line 6 modulation pro
line 6 filter pro
line 6 echo pro
korg sdd2000


2) effetti a pedale
line6 dm4
line6 mod4
line6 fm4
line6 dl4
line6 pod hd 500x
digitech whammy
dunlop cry baby
boss sd1
boss od2
boss hyper fuzz
boss ds2
boss dl7
tube screamer
electro harmonix big muff
electro harmonix cathedral reverb
electro harmonix q+
tc electronic Nova Delay
pro.co turbo rat
mxr dynacomp
ZVez Fuzz Factory

3) Ampli vox ac30
Ampli Rivera CubSter

4) Chitarre
Gretsch 6122 Country Gentleman 1962
Gretsch White Falcon 7593
Gretsch White penguin 6134
Gretsch 6117 Anniversary Edition 1967
Gretsch 6118 Double Anniversary Edition
Gibson Les Paul custom classic cream
Gibson Es335 Memphis 2015 VOS
Gibson Les Paul custom goldTop P90 1956 VOS Custom Shop
Gibson SG 2005 reissue 1964
Fender Stratocaster 1956 Custom Shop
Fender Telecaster Nocaster 1951 Custom Shop
Fender Stratocaster 1984
Fender Jaguar 1984
Rickembacker 330 Fireglo
Epiphone les paul goldtop
Epiphone explorer korina
Epiphone es335
Cort NTL20 acustica.

La mia lista dei desideri
gretsch come se piovesse.... :-) vox,hiwatt,madcat e budda a gog˛
I miei artisti preferiti
U2,DEPECHE MODE,BLUVERTIGO,BJORK, RED HOT, METALLICA, OKGO, THE KILLERS, PETER GABRIEL, RADIOHEAD, COLDPLAY, SUBSONICA, GOLDFRAPP, DAFT PUNK, PHOENIX, SMASHING PUMPKINS, PLANET FUNK, MUSE, PINK FLOYD, MASSIVE ATTACK, CHEMICAL BROTHERS, MORCHEEBA, BATTIATO, BEATLES, NIN, APRES LA CLASSE, AIR.
I miei generi preferiti
Garage rock, Pop rock, Rock and roll, Dark rock, Rock anni 80, Rock anni 90, Brit pop, Dance pop, New Wave, Indie Rock
Andrea Chirico
Maschio, 41
Como (CO)
- Chitarrista, Chitarrista accompagnatore, Compositore, Arrangiatore, Paroliere
un piccolo seguace di Daniel Lanois, Martin Gore, David Gilmour, Johnny Greenwood The Edge,Jonny Buckland e John Frusciante.

Non sono un guitar hero. Ho sempre dato più peso al suono, alle idee ed alla forma canzone che agli inutili solismi onanistici.

Suonare sempre il giusto, bene e con gusto.

Less is more
Video
Followers
|
Totali: 122
&nbsp
&nbsp
&nbsp
&nbsp
&nbsp
&nbsp
&nbsp
&nbsp
&nbsp
&nbsp
&nbsp
&nbsp
&nbsp
&nbsp
&nbsp
&nbsp
&nbsp
&nbsp
&nbsp
&nbsp
Ti interessa rimanere aggiornato sulle novitÓ pubblicate da Andrea Chirico?