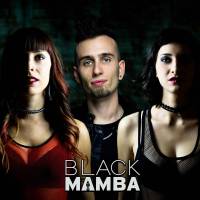 Questo profilo Ŕ stato visto 152 volte.
Approfondimenti Web
Suoniamo cover di
Rush,Deep Purple, Led Zeppelin, Ac/Dc, Toto, Foo Figthers, System of a Down, Guns n Roses, Rage against the machine, Red hot chili peppers, Audioslave, Muse, Micheal Jackson, Van Halen..
Suoniamo pezzi nostri
Artisti di riferimento: Rush, Guano Apes, Biffy Clyro..
Generi musicali
Funk, Hard rock, Pop rock, Rock progressivo, Rock anni 60, Rock anni 70, Rock anni 80, Rock anni 90, Melodic metal, Heavy metal, Progressive metal
Black Mamba is a female fronted Rock trio from Viterbo (Centre of Italy). Coming from different music backgrounds, the band has developed on stage a unique kind of Rock performance building a high energy shows extremely technical and musical. The show goes from songs of Led Zeppeling, Deep Purple, Foo Fighters to the original tracks of the latest album Heritage, realesed on December 2017.

Bringing Rock Music all over Italy, Black Mamba has over one hundred and fifty performances under her belt and has shared stage with some international acts for example: Blaze Bayley (Ex. Iron Maiden Singer), John Macaluso, Carl Palmer, Braido and more.

The band, Irma Mirtilla (Guitar and Vocals) , Cecilia Nappo (Bass), Federico Maragoni (Drums) is endorsed by Vater Drumsticks, Mezzabarba/Masotti Guitar Heads, Dophix Pedals, Esseti Picks, ATS Bass Heads, IQS Bass/Guitar strings.
Followers
|
Totali: 3
&nbsp
&nbsp
&nbsp
Ti interessa rimanere aggiornato sulle novitÓ pubblicate da ?