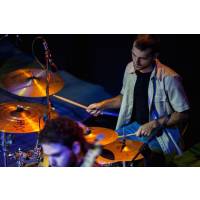 Questo profilo č stato visto 569 volte.
Approfondimenti su Web
La mia lista dei desideri
Vivere di musica, Creare un mio progetto musicale, girare il mondo suonando
I miei artisti preferiti
James Brown, Jojo Mayer & Nerve, Tigran Hamasyan, Hossam Ramzy, Massive Attack, Ahmad Jamal
I miei generi preferiti
Drum'n'bass, Funk, Rap, Classical jazz, Jazz funk, Swing, Blues Rock, Garage rock, Rock and roll, Grunge, Rock anni 70, Rock anni 90, Nu metal, Musica leggera, Dub, Bossa nova, Folk rock, Musica folk, Musica araba, Ambient, Samba, Blues, Indie Rock, Ska, Elettro Jazz
Cerco gruppo jazz
Mi propongo come: Batterista
Cerco Gruppo
Ciao sono un giovane batterista, sono alla ricerca di stazioni lavorative. Se interessato contattami alla mia mail ghostr@hotmail.it
Drum'n'bass, R&B, Funk, Rap, Hip Hop, Acid jazz, Classical jazz, Country blues, Jazz funk, Free jazz, New Orleans, Swing, Rhytm & Blues, Blues Rock, Garage rock, Pop rock, Rock and roll, Rock progressivo, Rock psichedelico, Rock anni 60, Grunge, Rock anni 70, Rock anni 90, Nu metal, Musica leggera, Musica araba, World music, Ambient, Blues, Elettro Jazz
max km da Avellino (AV)
Modificato: 18/05/2016
Biography

Ciro Roca (born August 21, 1993) is an italian drummer.
He start to play the drums at the age of 13.
From to 2006 until today play in different bands, exploring the style of rock, folk, jazz and progressive.
He start to study drums with the italian teacher Lorenzo Petruzziello, today he continues to start with him and with Marco Volpe.
At the end of march 2016 He take the university bachelor degree at the Conservatory Domenico Cimarosa located in Avellino in drums and percussion of jazz.
In 2015 partecipates at the event Tuscia Jazz Spring Camp.
He attended master classes with Greg Hutchinson, Benny Grebb, Jojo Mayer, Lorenzo Tucci and Antonio Fusco.
He takes part of different bands, playing blues, pop and jazz.
He teach the passion for music and drums to some young students.
Cerco Gruppo
Mi propongo come: Batterista
Cerco gruppo jazz
Ciao sono un giovane batterista, sono alla ricerca di stazioni lavorative. Se interessato contattami alla mia mail ghostr@hotmail.it
Drum'n'bass, R&B, Funk, Rap, Hip Hop, Acid jazz, Classical jazz, Country blues, Jazz funk, Free jazz, New Orleans, Swing, Rhytm & Blues, Blues Rock, Garage rock, Pop rock, Rock and roll, Rock progressivo, Rock psichedelico, Rock anni 60, Grunge, Rock anni 70, Rock anni 90, Nu metal, Musica leggera, Musica araba, World music, Ambient, Blues, Elettro Jazz
max km da Avellino (AV)
Inserito: 11/01/2013
Gruppi
Video