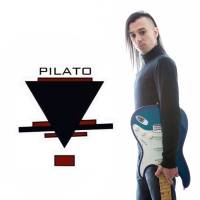 Questo profilo è stato visto 586 volte.
Approfondimenti su Web
I miei generi preferiti
R&B, Jazz funk, Free jazz, Jazz fusion, Pop rock, Rock progressivo, Grunge, Rock anni 80, Rock anni 90, Avantgarde metal, New Wave, Pop classica, Musiche di scena, Ambient, Blues, Elettro Jazz
Frank Pilato (born December 4, 1982) is a composer, guitarist and clarinettist based in Florence, Italy.
In 2008, he moved to Hollywood to attend the guitar program at the Musician Institute (MI), after having the Berklee Summer School scholarship.

In 2010, he graduated in composition at the Internationale Ferienkurse für Neue Musik, Darmstadt in Darmstadt, Germany.
At 29, he replaced Allan Holdsworth in "STORIES" trilogy of Maestro Andrea Marcelli.

He represented Italy at the 2015 Berlin Jazz Festival: The most important Jazz festivals in the world.

His last work, "SPETTRI" is produced from "Regione Toscana" in collaboration with "Toscana 100 bands".

Works in studio and lives with
Jeff Berlin, Gary Willis, Andrea Marcelli, Mitch Forman, Dave Carpenter, Francesco Artusato, Allan Holdsworth, Michael Angelo Batio, Ludovico Fulci, Philippe Ciminato, Tobias Relenberg, Sushi Rain, Miranda, Paolo Fattorini, Andrea "Tower" Torricini, Carmelo Leotta, Leonard Rossi and many more.