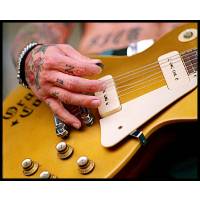 Questo profilo è stato visto 520 volte.
Approfondimenti su Web
Suono cover di
Social Distortion, Bruce Springsteen, Motley Crue, Guns 'n' Roses, Aerosmith.
Il mio SetUp
- Epiphone Elite Les Paul '02 MIJ - Jackson Jenna Jameson King V - Peavey Express 112 Sheffield
La mia lista dei desideri
In ambito strumentazione... Gibson Les Paul Goldtop '56 VOS P-90 model, Gibson Les Paul Custom, Fender Stratocaster MIJ (periodo anni 80), Fender Stratocaster Roadhouse Deluxe, Fender Telecaster '52, Spector NS2, Warwick LX 4, So many others...
I miei artisti preferiti
Motley Crue, Guns n' Roses, Aerosmith, Skid Row, Poison, Cinderella, Pantera, Tool, Iron Maiden, Social Distortion, Mike Ness, Bruce Springsteen, Stevie Ray Vaughan, The Gang
I miei generi preferiti
Blues Rock, Hard rock, Punk rock, Rock and roll, Rock anni 70, Rock anni 80, Rock anni 90, Country rock
"I'll keep moving through the dark with you in my heart, my blood brother."
Peace, love, soul!