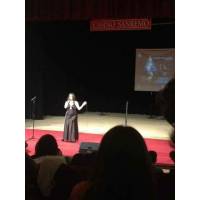 Questo profilo Ŕ stato visto 1574 volte.
Approfondimenti su Web
La mia lista dei desideri
Collaborations with major artists singing on stages prestigious work in jazz clubs senior.
I miei artisti preferiti
Anita Baker, Mina, Jenny B, Mario Biondi, Madonna, Gino Vannelli,Sade Earth Wind and Fire, Sting, Tina Turner,Alicia Keys,Mike Francis,Gino Vannelli
I miei generi preferiti
Disco music, Cool jazz, Free jazz, Jazz fusion, Swing, Gospel, Rock anni 70, Rock anni 80, Rock anni 90, Musica leggera, Pop classica, Ragamuffin, Lounge, Blues
Flavio Rapolla (57)
Landriano (PV)
Gianluca Cardia (47)
Como (CO)
Finalist at the 2014 Sanremo Promo Awards on stage Theatre Casino 'Sanremo. I am an artist with varied work experience important among which Grimaldi Lines in 2012. I love All good music. With a predilection for jazz and swing. I have a very unique voice and dark that manages to embrace different musical genres from pop music, pop, soul. I love the atmosphere of refined elegance and, at the same time engaging. Fluorescent lights, and one of my dreams', working in jazz clubs putting on a Duo Musical SERIOUS.